Welcome to Farmer's Wife Quilt Shop!
We Will be closed July 22, 23, 24, 2021 To Attend the Original One Stop Quilt Shop Hop in Kokomo!
WE HAVE EXPANDED!
The shop has moved to a new location!

Still in Bluffton and not far from our old location we have grown to nearly 4000 sq ft! With new classroom that is 20' x 40'. We are SEW excited !

Tues 10 am - 8pm
Wed 10 am - 5 pm
Thurs 10 am to 8 pm!
Friday 10 am - 5 pm
Saturday 10 am - 3 pm
SEE you at
927 N Main St
Bluffton, IN

Join us in store for sewing, quilting, and more unforgettable experiences that will have you coming back for more!
Nestled along the banks of the Wabash River in Bluffton, Indiana. Just 25 minutes south of Fort Wayne, its the perfect day trip!
Shoppers enjoy 10% off your order of $35.00 or more!
use coupon code: D8ZZN at checkout!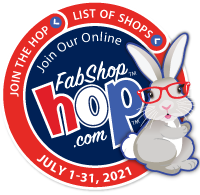 This bunny is on the hunt to shop all the things. Be sure to find him in the shop!